My Interview on The Qigong Effect – Online Summit with 21 Qigong Experts Worldwide
Learn how Qigong has transformed my life, grown my good health, creates vitality, joy & living my soul's path! Yay!
I'm honored to have been invited to speak in The Qigong Effect! It was an international online summit with 21 Qigong teachers around the world, each of us sharing of the transformational effects of Qigong in building our good health, reducing stress, promoting vitality, creativity, joy and living our soul's purpose. Watch and enjoy below :)!
---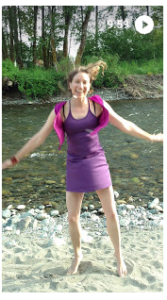 This is a short, refreshing less than 10 min video qigong practice you can do anywhere. It offers 2 very simple and powerful practices for cleansing and balancing your energy/qi, and opening your channels. It is an energetic "reset" for your body/spirit/being and it's fun too! Fun and enjoyment are key to any practice.
This was filmed outside and I encourage you to practice outside if you can, or you can enjoy the nature beauty in the video.
A whole video series, the Joy of Qigong, is available for purchase in our store.