Greetings Friends!!! 🙂
Oh YAY!!!! I'm so, so, so HAPPY to Be HERE with my beloved Chinese family!! 🙂
So in my last blog I left off with us arriving in Zhengzhou! I was soooo happy to arrive, as it has been over 1.5 years since I've seen Dr. Zhao and Ayi! I adore them and am filled to overflowing with love, gratitude, deep respect and admiration and so much more love for them! AND to have the grand treat of being with them AND introducing 4 other young students to them is such a blessing. Just as my relationship with Dr. Zhao, Ayi and their family is one of the truly great gifts and invaluable treasures in my Life, I know that these students are about to receive a similar gift that will continually bless them. It is a gift they will now carry with them for the rest of their lives! And it is one that will keep giving as they share their stories with others and the immense love, joy and wisdom they receive here will absorb into the core of their being and radiate out in many magical, beautiful ways.
When we got off the train and into the warm buzzing night air of Zhengzhou (capital of Henan province with over 9 million people!! :)), we must have been quite a seen, 5 American/Canadian women wandering the large station among a sea of Chinese families, workers, students and business professionals. I had clear instructions from Dr. Zhao to meet him at the South Gate, but the only exit signs read "XiBei" or "Dong Bei" – Northwest or Northeast. 🙁 I finally realized we had to walk to the whole other side of the station (and these trains are long!!) and found "Dongnan" and "Xinan" – Southeast or Southwest – but Dr. Zhao had just said South! Hmm…I texted him as we started walking toward southwest and arrived there, only to receive his text that he was at Southeast. 🙂 By now we were some of the last people leaving the station….BUT it just gave us more time to get more exited!! 🙂
As we were walking up the underground tunnel to the exit, I could make out the silhouettes of Ayi and Dr. Zhao. The ticket worker must have let Ayi pass him, as I could see her starting to walk towards us. I couldn't contain my excitement any longer, grabbed my bags and started running towards her – beaming even brighter! Ayi saw me and she started running too!!! Oh so SWEET!!! We met each other with a big embrace, lots of laughter, hand squeezes, more hugs, and right away, Brynn, Megan, Cassidy and Emma got a palpable dose of the immense love that flows from these two amazing people, Ayi and Dr. Zhao.
The Art of Hugs in China! 😀
And those of you who read my blogs from my first internship with Dr. Zhao in 2010 know that in China, giving hugs is not a common occurrence among friends. Girlfriends are very loving in stroking each other's hair, holding hands, being close, etc, but hugs just aren't a part of their custom. Well, as hugs were a big part of my family upbringing and are a huge part of my instincts to show and share my love, I naturally love to give them to the people in my life. This took some getting used to for both Dr. Zhao and Ayi. Dr, Zhao got used to it pretty quick in his 2009 visit in the U.S. – as many of my friends and community are into hug-giving too! 🙂 And Ayi got introduced to the hug-custom in my first 2-month visit with them in Zhengzhou. I remember the morning she came in the clinic — at first I thought I may have done something wrong but then I realized she was asking me for her morning hug!! 😀 Haha!
After a round of wonderful hugs, Ayi held my hand as we walked together to the Southeast exit where Dr. Zhao was standing, beaming and glowing in his wonderful way. YAY!!!!!! Oh I'm so happy to be here together with him again! I gave him a Big hug and he had a most joyful introduction to his 4 new also radiantly beaming Canadian students!! 🙂
A Homecoming Feast!
Dr. Zhao and Ayi then took us back to their home where Dr. Zhao's younger brother had come to help prepare a most amazing feast!!! (I wish I had remembered to take pics!! :)) We had such delicious fentiao (sweet potato noodles) with carrots and sesame oil, sautéed eggs and tomato (a Chinese staple :-P), doupi (tofu skin) and cabbage (one of my favorites!! Actually all of these dishes are some of my favorites!!). And we had the most delicious millet porridge too!! Oh my goodness!! What a wonderfully warm and very yummy welcome!! 🙂
We all then squeezed in to Dr. Zhao's car and he took us to our hotel, Xin Yue Shang Yu Jiu Dian. Yay! This is the place I stay when with my Chinese family here in Zhengzhou, and the staff, manager and owner of this place are some of the most loving, friendly and generous people ever!!! I may have been one of their first foreigners to stay here…and certainly to stay here for so long (as my first visit was for 2 months and my other visits have been 2-5 weeks) and they are so so wonderful. Breakfast is included in the cost of the room, yet they have always also fed me dinner with the staff at night! 🙂 – a rare and special treat!!
And my very first night at this hotel in March of 2010, I remember watching some staff scurry around with some big bags of fruit while I enjoyed some porridge and veggies with the other staff. Shortly thereafter I found out what all that "scurrying" was about! While finishing the last sips of my porridge, they came out of the kitchen with a most beautiful platter of cut fruit – pineapple, apples, oranges, banana, etc – all in beautiful shapes and promptly placed it right in front of me! Smiling, they exclaimed their warm welcome in me staying there!! Oh my goodness!!!! This is just one example of the many, many acts of great kindness and generosity of the staff and managers have given me here! 🙂
Kailun, you're back! 🙂
So this visit too, they are providing all 5 of us with breakfast, along with the other guests, AND dinner with the staff at night. 🙂 The evening we arrived, Dr. Zhao walked with us to check in. The receptionists are new since my last visit, but they were smiling and had heard about me coming. Then an older man, a gentle spirit who has worked here for years appeared in the lobby with a big smile on his face. He said, "Kailun, ni hui lai le!" "Karen, you've come back!!" In my 2014 visit we had shared many a dinners together –often porridge and cabbage – which I always exclaimed was yummy and he exclaimed he was rather tired of it from eating it often! We would laugh about it each night, along with the funny questions he would ask me about America! 🙂 I beamed back at him and said, "Yes!! And we can eat cabbage ("bao cai") together again tomorrow night!!" He laughed! 🙂
And as we got settled in our rooms upstairs and I was talking with our Canadian students, another wonderful young staff member, a young man (I forget his name!! :-(…) came running down the stairs with a big smile! He said, "Kailun, wo gang xiangdao ni, xiang ni shenme shihou huilai, ranhou wo jiu tingdao ni de shengyin!" "Kailun, I have been just thinking about you and wondering when you'll come back, and then I just heard your voice!!!" YAY!! And then he exclaimed that tomorrow is his birthday and we could celebrate together with my students! Oh so awesome!!!! He is such a wonderful young man. I've known him now for 6 years – since he was 17 – now 23. He was the night guard at the door then. It seemed like a hard job – staying up all night, yet he always had a sincere, big, warm and friendly smile on his face.
I, in my excitement to see him, naturally went to give him a hug, but as he continued to stand in an awkward straightness, I realized he is not aware of my "hug-custom" – as, right,… I am in China! 😛
I LOVE being in the clinic again with Dr. Zhao and there is always so much to share!!! Every day is like 3 days!! As my updates can get rather long, I'm going to send this out now and will send more soon. All my time with Dr. Zhao is super full AND this time is extra full in providing translation for 4 students and Dr. Zhao and others. I LOVE doing this AND I notice I get sleepy earlier at night now (not so many hours for me to write!! :))
Below are some fun pics! Look at Dr. Zhao's 4 new smiling students!! They are all so great!! 🙂 And so enthusiastic!! 🙂 This is Brynn, Megan, Emma and Cassidy! 🙂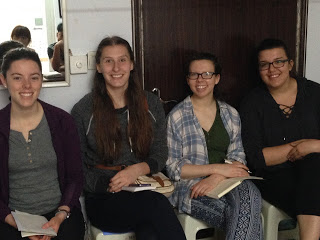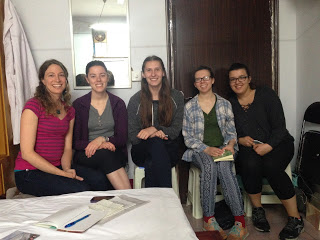 I'm having so much fun being their interpreter!! 🙂
And here's Master Junling wrapping up herbs :)! I still need to practice a ton! 🙂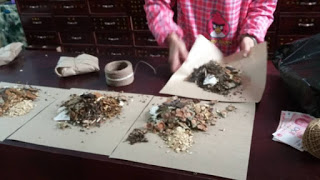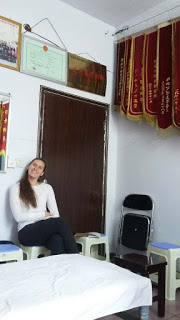 This is smiling Megan! 🙂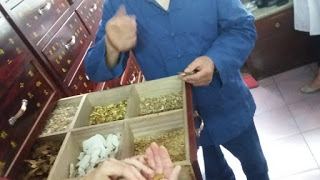 Dr. Zhao giving his first lesson to these students on herbs :)!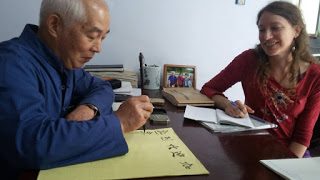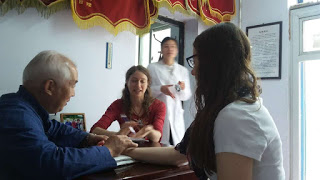 This is Dr. Zhao teaching some on pulses 🙂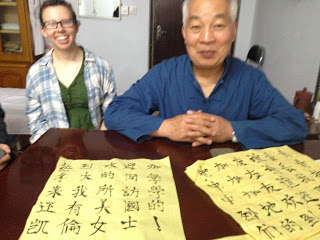 This is my favorite pic so far!! Haha!!! Emma and Dr. Zhao look so happy!!! 🙂 Dr. Zhao was introducing the art of "shufa" – Chinese calligraphy. 🙂 The paper on the left says : Re lie haunying Jianada de tongxue lai wo suo fang wen haiyou American Ms. Kailun!" "I enthusiastically welcome my fellow Canadian students to come visit my clinic, and I also welcome American Ms. Kailun!" 🙂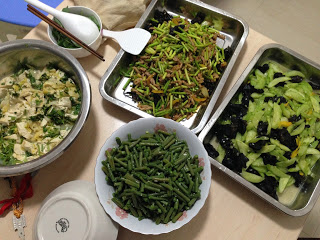 And, with all the AMAZING YUMMY food we're eating, I need to at least include one pic of one of our lunches!! 🙂
And here's Ayi teaching us all how to make dumplings! 🙂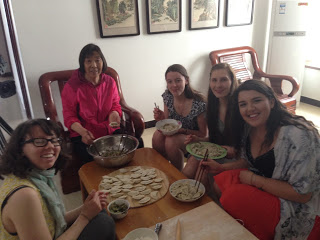 Here's a few pics of the birthday party we had with the young man at our hotel! 🙂 He bought a cake to share with everyone! 🙂 The older man in back is Mr. Li, the hotel manager, and the young smiling one is the birthday boy! 🙂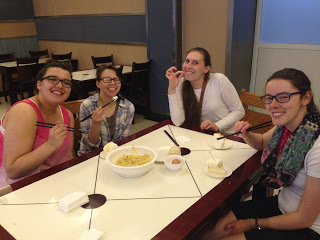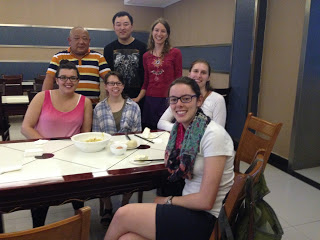 YAY!!! Thank you so much for receiving these updates from China!! Sharing the immense love and adventure of being here means a lot to me and is one way to spread and expand the gift of being here.
Dr. Zhao and Ayi send their love too, and more news from Zhengzhou is to come soon!! 🙂
So much LOVE and good Qi and JOY to you ALL!!!
Much Love,
Kailun 凱倫