Greetings Friends!!!
YAY!!!!!!! Oh my Goodness!!! Guess What?!! I'm back in CHINA!!! 🙂 Haha! I'm so excited to be back here!! I LOVE being in this land that is like another Universe, yet I feel so at home! I had decided to stay in the U.S. last year as I was healing a back injury and just early this year I started wondering when I would feel the call to go back. I often start to have some dreams and get a feeling in my heart and deep in my bones when it's time to go back. I feel an excitement and taste of the journey before it arrives. And…the call came this spring…..and it came along with a really great opportunity!
(I LOVE these gifts from Life!!!! They are always so much more magical than my mind could've ever thought! :))
So this trip opportunity was born in December – long before I knew it. In December, one of my former Bates professors, Margaret Maurer-Fazio put one of her Canadian colleagues in touch with me. This professor, Dr. Susie Andrews, has a student who had won a scholarship to study in China this summer. She is going on to medical school and one of her main desires for the summer is to immerse herself in Chinese medicine and to learn from a Master. Well!!! Of course I was thrilled and immediately wrote back with enthusiasm sparkling out of my email about….Dr. Zhao!! He is my teacher in Zhengzhou, Henan, China, whom I've been studying with since becoming his interpreter for his U.S. visit in the summer of 2009 (I have many blogs on these awesome internships with him and his family at 
www.qidancer.blogspot.com
 )! He is so wonderful and is a true self-made Master of Chinese Medicine!!
Well Susie loved the sound of this and so did her student Brynn, so I contacted Dr. Zhao and, as he is super generous and desires to share, share, share, he said "YES"! I've been helping Brynn plan her trip….and then 3 other students with scholarships to China caught whiff of this opportunity and a also asked to meet Dr. Zhao! 🙂
Just over 1 month ago, when helping with their preparations, they asked me if I would fly to China and be their interpreter!!! Oh My Goodness! YAY!!! and YES!!!! So I hopped on an airplane early this week fly to Beijing for 1 night to meet these 4 awesome college students before embarking on our journey to Zhengzhou!!
AND, after I posted about this opportunity on Facebook the night before I left, guess who messaged me? My former Bates College professor, Maggie Maurer-Fazio!!! She's in Beijing for just a few days! What are the chances?!! 😀 The woman who was the spark for this whole trip and opportunity to happen is in Beijing too! So Maggie came and met me at my hostel in the old alleyways of Central Beijing for a lovely dinner and visit (even though we went out to eat at 3:30 a.m. PDT and I hadn't slept yet!! :))
It's like summer in Beijing now – in fact when I landed, I felt like I stepped out into a giant oven! It's super HOT! And was a perfect reason to treat myself to some of my favorite old Beijing yummy yogurt drinks in the re-usable clay cups! 😛
I met up the next day with the 4 Canadian students, Brynn, Cassidy, Emma, and Megan – all smiling and shining from the fun and excitement of their/our new adventure! We all squeezed into a hot, full train to Zhengzhou to be with and study with my most beloved Chinese family!!! YYAAAAYYYY!!! I'm so excited to see Dr. Zhao, his wife, Ayi, their grandkids and all my friends there at the clinic and at the awesome hotel we stay at with the most friendly staff in the Universe (and that's not an exaggeration!! haha! :))
This is a short update and I will write more soon!!!! Have lots more to share and am typing away –though I wanted to get this out now 🙂 I'll be in China a short time this trip as Dr. Zhao is the first stop for these students who have several things planned this summer.  🙂
Below is a pic of me and Prof Maurer-Fazio in the alley way of Beijing, and one of me and Megan on the train with a very enthusiastic English student –(he talked with Megan practically the whole 5 hour train ride!)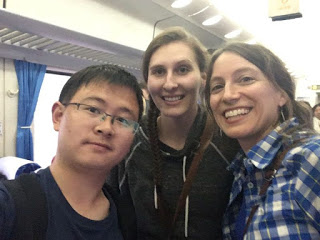 So much LOVE and much good, warm Qi to you all from CHINA!!! YAY!! So excited to share more!! 🙂
Much, Much LOVE, LOVE, LOVE,
Kailun 凱倫 🙂