Let's learn about plants and how their medicine can keep us healthy and strengthen our immune system!! 
After getting some great feedback from people interested in our original 9-month plant medicine class, we've revised it to be a series of quarterly plant medicine classes at beautiful Hawthorn Farm in Woodenville.
We're excited to announce and invite you to our first Plant Medicine and Nourishing Life Class on Saturday, November 10th from 9:30-4ish.  
In this class, entitled Optimum Wellness and Immunity During the Fall, we'll:
Learn how to keep ourselves healthy during cold and flu season (Yay!)
Learn how to make remedies with local forest plants and simple ingredients in our kitchen (so empowering!!)
Make some herbal infusions, a tincture, and our very own cough medicine to take home! (Fun and good medicine for the whole family!)
Learn about our immune system from an energetic and holistic point of view based on Chinese Medicine. (way cool!!:))
Gain simple concepts, acupressure points and exercises to increase our vitality and strengthen our immunity to stay healthy (and they're fun! :))
The cost for the class for the day is $80 (which includes materials to make our tincture, cough syrup, and teas).
Tickets are on sale via EventBrite:
https://www.eventbrite.com/e/ optimum-wellness-and-immunity- during-the-fall-tickets- 51468816616
We look forward to sharing this fun and health-empowering day with you!
Please email me (karen.dancingqi@gmail.com) or Nate (n8summers23@gmail.com) with any questions.
Registration is open on Event Brite.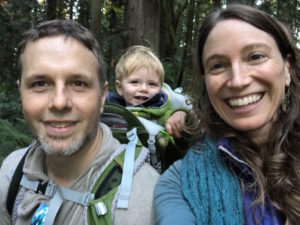 Instructors ~ Nate Summers & Karen Joy Fletcher
Nate and Karen have extensive training in Qigong, Chinese Medicine, Chinese language and culture, and Taoist meditation and philosophy. Between the two of them they have over 40 years experience in these arts. Nate has been teaching Plant Medicine for over the last 15 years and has served as faculty at organizations such as the Wilderness Awareness School, the Desert Institute of Healing Arts, and the Asian Institute of Medical Studies.