ZY Qigong Level 1 ~ 中原氣功
Mondays • 10:30am Pacific Time

Beginning and returning students welcome!
This 10-week series starts Monday September 25, 2023.
This is a Women's Nourishing Qigong Class focusing on Zhong Yuan Qigong Level 1 ~ Relaxation.
Classes are Mondays at 10:30a PT, and include ~90 mins of practice time plus 15 mins for Q&A and shared reflections, concluding by 12:15p. Classes are online via Zoom, September 25 – November 27, 2023.
To register, please use the PayPal button below. After the payment comes through, you'll receive the Zoom log in for the class.
If you have questions, or would like to register via check, you can RSVP here and put "Qigong Class Questions" or "Pay be check" as the class title.
Early Bird price $177 for the series available till Sept 15. Regular price is $225.
ZY Qigong: a Simple Life Science Cultivating Joy & Vitality!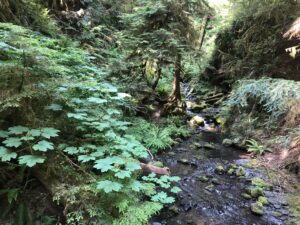 Qigong (pronounced "chee-gung") is an ancient and evolving Chinese system of breath, meditation and movement. It is comprised of simple, yet powerful exercises that cleanse and develop our physical, energetic and spiritual anatomies. Born from observing the vitality, harmony, power, wildness and cycles of nature, qigong gives us tools to receive from nature and cultivate these qualities in ourselves. The practice of qigong opens a pathway of adventure, self development and discovery in both our inner and outer wilderness, and leads to lifetime of vitality and wellbeing.
The Zhong Yuan (ZY) Qigong lineage is one of the world's most ancient and complete healing and self-development systems, a practice combining movement, breath, and meditation to store and focus energy for personal transformation and healing. Distinguished both by its simplicity, and a lineage steeped in Buddhism, Daoism and Shamanism dating back over 7,000 years, this practice draws on the accumulated energy and consciousness of generations of masters, with Grandmaster Mingtang Xu being the current lineage holder.

Through ZY Qigong Level 1 practices, you will learn to: activate your energy center and system, the Lower Dan Tian; absorb, generate, and move energy; increase your energy level and vitality, reach a deep relaxed state, balance and improve your immune and digestive systems, and feel increased peace and wellbeing in your daily life. And…have fun!!
All of these exercises are powerful, nourishing, transformational and feels so, so Good!! One of the many benefits from Qigong is the natural cultivation of good health, peace and happiness! It naturally starts to exude from our pores, and shine from our eyes and soul, as Qigong establishes an inner harmony connected to the Great Harmony of Mother Earth and the Cosmos.
I look forward to practicing with you!!