My beloved furry friend, my four-pawed Sensei and partner in so many epic wilderness adventures has crossed over and passed away with such grace and beauty. She passed away late July outside under our hemlock trees in my arms with both our heads nuzzled together. This is how we have "hugged" ever since I recognized her luminous, calm, wise, refined, yet epically playful, adventurous and deeply loyal and loving spirit.
Stella…meaning of the stars…has been a big part of my life for the last 9 years. After my first internship in China with my teacher, Dr. Zhao, I moved in with my dear cousin Julie and her family for a couple years. While I had met her dog, Stella, on visits before, it wasn't until I moved in and started taking her with me on my walks around the neighborhood and in the parks, that I quickly fell in love with her.
It was mutual. I have never been a dog person, but joked, that I soon became a "Stella person".
We were almost always together. She kept me company while I worked and then I took her with me on all my walks and any other outings I could. If I was away for the day or evening, we'd both miss each other. Yet, when I'd come home, excited to see her, I'd open the door, and could immediately hear her give a yelp of excitement and then come running down the stairs to greet me. We always met in the same way. I'd bury my face into her fur and we'd nuzzle our heads together. We also did this each and every morning. Ahhh So special!!
I LOVE adventure and being outside, and so did Stella. After seeing how much she enjoyed our local neighborhood walks and park wanders, I soon looked for any opportunity I could take Stella with me out into the wilderness. I loved seeing her eyes and whole being become radiant and alive as she ran through forests, over logs, dipped in any wild water (lakes, rivers, streams, puddles) she could find.
Many of my friends, backpacking adventure mates, Earthgym sisters and brothers and more all got to know and love Stella – as I took her everywhere with me. She joined me on many of my Earthgym training visits with Mick Dodge – both running the woodlands and beaches of Whidbey Island, and running deep in the magnificent wild rainforest of the Hoh. She LOVED going Hohme to the Hoh, climbing on the giant mossy logs and bathing in the Hoh River's glacial silver blue waters.
She also traveled with me and my twin sister, Lynn, when I took her on her first backpacking trip in the East side of the Olympic Mountains. Stella has journeyed high into the alpine meadows and wilderness south of Mt Rainier, the Norse Peak Wilderness, the Alpine Lakes Wilderness, throughout the Cascades, including North Cascade wonderlands and the Okanogan wilderness and much more.
The joy, aliveness and exuberance combined with her strong sense of being "Home" in the wilderness just added to my own extreme joy and wonder of exploring and experiencing these magical places. The more we traveled and traversed exquisite wild lands and terrains, the deeper our connection, trust and love for each other grew.
On one backpack in the North Cascades with my friends, Julius and Danielle, I remember how we all so delighted in watching Stella greet each new stream, river or lake in the same joyous way. She'd bound up to it, mindfully yet excitedly step in and then suddenly plop into the water belly first! She'd then lap around gulping down as much fresh water as she could, so enjoying the crisp coldness and the vital, alive Qi of the waters and place!!
It was on this same trip that we all decided that upon reaching the next roaring creek, we were all going to do jump in and do "the Stella" – which meant we ran down, just like Stella, to the swiftly flowing water's edge, found a pool of water, striped off our clothes and dove in belly first while laughing and yipping!! And then, unlike Stella, we immediately jumped out of the frigid waters to warm ourselves on the sun-baked boulders. YAY!
In her last days, Stella communicated so much to and with me. Her heart is so PURE, and her love so deep and infinite. I am so amazed and humbled by her and love her so so very much. She shared that I helped her live her soul's purpose – and helped her experience being deeply loved, valued and appreciated, helped her to blossom in her deep connection and enjoyment of nature, beauty and our exquisite wild places, and gave her an opportunity to love deeply. Wow! Oh Stella!! She asked me to reminisce with her about my favorite memories together – especially of our wilderness adventures….and to tell her it was okay to go.
On her last day, Stella said she wanted to "celebrate with me and share with me how much I've grown in this world". Oh my goodness!! I burst into tears. I just wanted to celebrate and LOVE Stella!! And here she was wanting to celebrate me. She encouraged me to continue opening my heart and express my joy wherever I am. She said she has so enjoyed watching me do this and to see me "fully blossom in family and sharing and expressing my love of nature has been her greatest happiness." She said she will "continue to serve me and will especially be looking after my little one"(Orion!)
Oh my Goodness! Stella is amazing. I am so deeply and infinitely grateful to and for her presence in my life. After meeting Nate and moving in together in 2015, I finally had a place Stella could come join me again and my new family. She loved living her "golden years" here by the Tolt River with me, Nate, Katie and Tara and, as of 2 years ago, little Orion. And we have loved being with her and having her here with us.
Many people that new and loved Stella over her lifetime called and sent words of LOVE and appreciation and prayers for dear Stella in her final hours here.
My dear sensei and friend Mick Dodge sent this beautiful poem:
Yoish!

Stella the four paw, such a curious name.
She ran and danced, knew how to live the game.

Now it is my way to use my feet to know a name.
The teaching of Stella must be explained.

As I tapped out the sounding with my two feet.
This is what I heard from Stella's feet!

Two sounds came chanting the "Stel" and "la, la, ".
And as I sang her rhythm it revealed the old law.

Then the "stel" shifted into the word "still"!
And it was then that I danced to know her will.

As I caught my second wind tracking the "la" to the end!
I found myself being pulled out and then back in.

And la, la lead me to the words ..laughing and landing.
Singing, and chanting and there is Stella's understanding!!!

So as I chant Stella..la, la, law!!
I go still while landing and feel what she saw.?

Old is her teaching of the la, la, laws.
Chant it while landing and grow your paws!

Even now I can feel her panting as I go on my run.
I thank you STELLA!!
Your teachings were fun!!

Now there will be a time when I come to my end.
And I will meet with strong paws laughing and as your friend.
-Mick
While I held deep sadness in my heart with Stella's passing, my twin sister reminded me that her passing was also a sacred celebration of a life lived well. We shared a feeling of, "YAY STELLA!! You did it!!!" Life isn't easy. Yet Stella made it through her journey, and she did it beautifully – living fully, so healthy, alive, free, exuberant, wise, aware and loving. She lived fully through her youth and mature years, and aged with acceptance, grace and patience and died with deep beauty and grace. Her life and death holds a great blessing and teaching for us all.
I thank you and I love you, Stella.
I made a simple nature altar for Stella next to our ferns and hemlock trees where she crossed over while in my arms.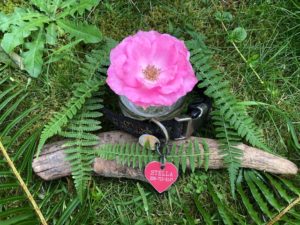 The next day I felt such emptiness with her living presence gone. In the afternoon, when sitting in the backyard under our apple tree, I cried, my heart missing my dear friend. I looked up into the sky and saw a beautiful luminously white puffy cloud.
In an instant, I felt Stella's presence.
In the next moment, a hummingbird flew up to my face and hovered. It was Stella's spirit and I received her message.
She reminded me she is always with me, that she is a protector/supporter of me and Orion and is here to help me live my purpose of sharing Divine Joy.
Again tears, so many tears of gratitude for this luminous being, Stella, our friend of the Stars. Thank You. Thank You. Thank You. I Love You and am so Grateful to and for You.
Below are some pics of some of our many wilderness adventures together…